A Christmas music CD
featuring carols beautifully performed on
acoustic guitar and mandolin.


History of the carols, free sheet music, and soundclips.


Performed by Montrose Music's own John David.

You are invited to read the fascinating histories of the Christmas music, browse the reviews, listen to the music, test your knowledge with a fun quiz and more...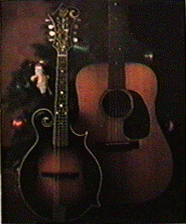 Makes a wonderful gift!

Special discount price
Compare!

[New Update: Dec 12, 2015]
carol histories

reviews of the cd

mp3 sound clips

Christmas music quiz

the artist

Christmas cd acclaim
arrangements

free sheet music

awards & links

ordering info
Christmas songs on the cd
Hark! The Herald Angels Sing!

The First Noel

It Came Upon a Midnight Clear

God Rest You Merry Gentlemen

Jolly Old St. Nicholas

Cantique de Noel (O Holy Night)

We Three Kings of Orient Are

What Child Is This

Deck the Halls

Away In a Manger

Silent Night

O Little Town of Bethlehem
[scroll down and click
on title or image below]
Historical information and little known facts about the background and origins of the Christmas carols, music and lyrics.
"A rare treat...Highly recommended."
"...many Christmas guitar albums. This may be the best." Raves from CD Review,GuitarPlayer, ...
Hear the music. Mp3 sound clips. wav, too.
Entertaining questions about the carols: Neither composer nor lyricist would have approved of which famous Christmas carol, assembled after their deaths?
John David is a multi-instrumentalist, producer, arranger who has appeared on the Tonight Show as featured instrumentalist; has produced, recorded...
Beginning with a baroque style solo guitar arrangement, then layering the music with a bed of picking acoustic guitars, The Christmas Guitar...
Would you like to play a Christmas carol? Here's "What Child Is This?" (Greensleeves). The sheet music is free!
In honor of our "Cool Site" awards. Other Christmas music and guitar links and our "banner."
Order The Christmas Guitar online with your credit card. Or order by mail with a convenient printable form. Christmas music makes a wonderful gift!
These Christmas songs will be available on The Christmas Guitar II,
ItŐs in production! Available soon!

Angels We Have Heard On High
Jesu, Joy of Man's Desiring
I Wonder as I Wander
Bring a Torch, Jeannette, Isabella
Joy to the World
Carol of the Bells
Good King Wenceslaus
While Shepherds Watched Their Flocks
Mary's Boy Child (A Calypso Carol)
Ave Maria


---
E-mail comments to




Please let us know how you found this page.




The Christmas Guitar: Christmas music on guitar and mandolin
The Christmas Guitar and the Anthology of Christmas music website are copyright montrose music. Please do not use these images or content without permission.
©1996–2015 montrose music